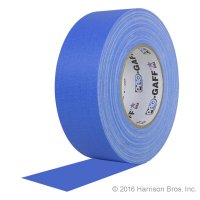 Pro Tapes and Specialties offers the most colors of gaffers tape-currently 20 and counting.
Those in entertainment production and audio visual production know the value of different colors for color coding, labeling and repairs. It is also common practice for production pros to use a unique color that no one will confuse as their own.
The one thing that might be an issue for those who use colors is the inconsistency in color from lot to lot. There is no color scale-PMS is an example-for guaranteeing color matching.
This can be a problem for artists and may also cause issues for someone who wants to freshen up a repair or match work from an earlier date.
If you have a project that will require color consistency over time, make sure you order enough tape at the same time to insure that everything you have is from the same lot.
Harrison Bros. Inc.
GoodBuyguys.com
47 N. Chatham Pkwy.
Chapel Hill, NC 27517
Voice 800-327-4414
Local 919-968-6651
Fax 800-327-6651
Email sales@harrisonbros.com