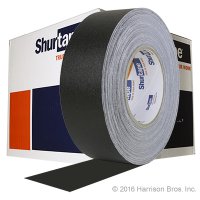 In most environments, utility grade gaffers tape gets the job done. It is prized in the video, film, concert and special events industries and you'll find it on stages everywhere.
This time of year, techs who are working outside in very cold weather know that they need something special. That's Shurtape Professional Grade gaffers tape.
This product has a specially formulated adhesive designed to work in extreme environments. It does not become brittle and lose its holding power, even when exposed to extremely cold temperatures.
It is more expensive than other gaffers tape, but its performance can't be beaten when temperatures plunge.
It is offered in black, white, and grey and is available in two inch and three inch widths.
If your production schedule has you headed outside this winter, make sure Shurtape Professional Grade gaffers tape is in your work box.
GoodBuyguys.com
Harrison Bros.com
47 N. Chatham Pkwy.
Chapel Hill, NC 27517
Voice 800-327-4414
Local 919-968-6651
Fax 800-327-6651
Email sales@harrisonbros.com